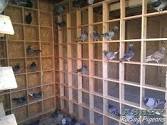 For the individual who is not in the pigeon world space, they may believe falsely that a pigeons home is a nest.  But what is a pigeons home called is second hand knowledge for the pigeon fancier.
A pigeon's home is actually called a loft for those who did not know.  A pigeons home has also been called a coop, similar to the term defined to a chickens lair or residence.
Here is a great video to show racing pigeons coming home.
Check it out: